Hi secret pals, spoiler and spoilee. I hope your have a good summer and keeping cool. I will be sending another package out next week to my spoilee. I love spoiling people!!!
I think I'm doing well with my summer reading challenge. I've read 3 books on my list and am on to the 4th. I've enjoyed reading all of them. All three of the books I've read have been page turners and always had the books in my face because I couldn't wait to know what happened next! This next read will be slower paced I think, but I'm looking forward to a more leisurely pace.
"The Princes of Ireland" Is a book that explores "Celtic roots in a magnificent epic of Ireland spanning eleven centuries". The author of the book, Edward Rutherford does this using fictional characters to portray major events in Irish history. It looks really good!!! From Ireland, I'll be traveling to Japan (in my head,anyway) to read the Memoirs of a Geisha. I'm going to be a world traveler without leaving my porch!
There has been knitting going on this week. I think I mentioned it in my last post, but can't remember. I made something for my secret pal, but can't reveal it here, until after SP8. I don't want her to guess quite yet, who I am. I've also been working on my sampler for the "Sampler M knit-a-long. It's coming along well and I'm ready for the next pattern. There are 29 patterns in all. The sampler is made out of cotton and size 0 needles. Here is a progress picture.
Although size 0 are the smallest needles I've worked with, the project moves quickly and looks good (I'm so modest). The first square is the letter "M" .There has been some discussion as whether the M is the initial of the knitter or means something else. This particular sampler was made by a young girl in the 16oo's. When the sampler is displayed, the "M" is actually upside down and looks like a "W". (how lucky for me! I can use it as my initial). The second pattern was named "snowdrop" by Carla, the woman who interpreted the pattern and wrote the directions. It's difficult to see in my picture, so here is the flower it represents.(blogger has decided to limit my pictures. #%&* never works!!!)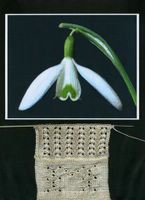 snowdrop
I'm stubborn, so let's see If I can end this blog with a picture of my niece. It was her first birthday and she had a great time. I almost fell on the floor when I heard her say "what up"! She also says Dada and mama and what that as she points. That girl's gonna be a talker. Just like her auntie!!!
I love my new toy!
I had to be sneaky about getting my pictures on this blog. Thank you "HELLO" this program allows me to send pics to blogger. Blogger needs to get this fixed!!!
Anyway, Everyone have a wonderful weekend and keep cool! Here in MA, it's going to be hot,humid and hazy at 90 degrees. As the witch in Oz would say "I'm melting!"